I've been having this urge to travel past couples of weeks now and as I've promised myself to have some things done here at home and not travel for a while, I can't but consider about booking a staycation in my own city. And this obviously took me back to my stay at Clarion Hotel Sign exact this time last year. I had such an amazing time that I felt compelled to write about it and share it with you all!
It may sound strange to some to go on a staycation… and to be honest I used to think the same way, but it's actually extremely gratifying not having to pack up your entire life and take a short vacation in your own city. Being so close to home there is no stress in case you'd happen to forget anything.
One of the wise things I've learned throughout my travels is no matter how much I love solo travels and experiences alone, sharing moments like these with a friend brings such a cherry on the top to the experience. It brings more of those inside jokes, stories and "talking with eyes" moments to your life giving you those "Remember that time when…" memories to cherish later.
Having that said, my sister Khushbo is my favorite hotel crasher/travel twin of all times… she's my best friend, my soulmate, my all!
With all that done, we quickly hurried up to Selma City Spa to enjoy a warm and good swim before it got dark. I had been here for a day spa before with a great experience, but never during winter while the snow is laying around the outdoor warmed up pool. To me, it felt like "The Finnish Sauna experience" (and I haven't experienced this yet) which really made the swim an experience in itself. Note: Make sure you check the timings for spa treatment as the pool is open longer hours than the spa. We had missed this so the spa staff had already left for the day, which wasn't an issue to be honest as we got more time at the pool.
Access to Selma City Spa + one 25 min treatment is included for hotel guests staying for a "Lazy Sunday".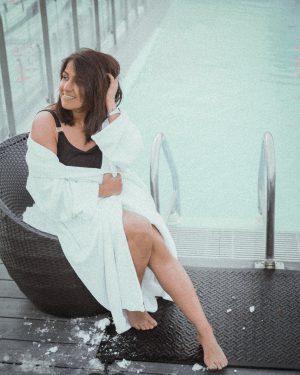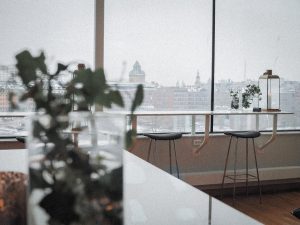 Feeling like a new person all refreshed from the swim, we got dressed up to settle in for the food and drinks at Kitchen & Table. What I love about staycations is how it gives this change of scene in your own city making you feel anonymous.. new to city. Important life goals become irrelevant and it's somehow like you stepped in to hotel narnia and you're now living a movie-star life complete with this "it's all just a bit too easy" feel. Do you get what I mean?
Side note: The staff at Kitchen & Table make some mean cocktails. So if you're into gin like I am, order their Twiggy cocktail—no seriously, order it. You won't regret it. Also, they're open until 11pm only so don't make it too late. We started early and I have to confess, we hoovered enough free nuts and olives to feed a small island while chatting over that one cocktail.
It's all about calories to consume while creating those memories right?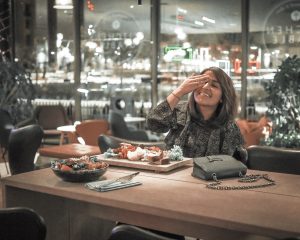 The next morning we woke up to an amazing breakfast buffé, which we for that matter woke up extra early for to not miss and almost rushed to as I had missed that I wanted some breakfast shots in the bed for my content so we brought it up to the room (the breakfast was the cutest for going and finding a white tray which I "had to have").
Huge thanks to Clarion Hotel Sign for a night/day to remember.
If you've been considering a staycation and going away on a far off and long vacation isn't something that currently fits into your schedule, Clarion Hotel Sign currently has a great package specifically for a Lazy Sunday staycations where you can easily head straight to work—if you work downtown that is—after a weekend stay at the hotel. So what're you waiting for? You deserve that staycation!
Also, I LOVE to hear from ya, so if you read this blog post I'd love it if you left me a comment so I know I'm not just sharing all of this with no one 😉