What do I begin with?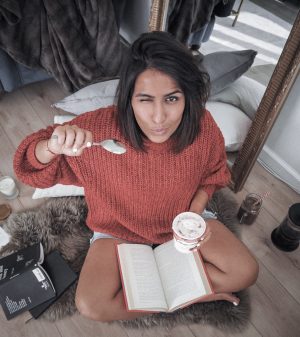 Hi! My name is Richa and I am a fashion content creator & brand consultant based in Stockholm. I am super excited to start this new blog and pour out all of my personality in one place sharing my daily style, fashion and beauty tips, and my travel obsession.
15 Random Facts About Me
1. I love public speaking (I am not shy anyhow!) but I am also introverted at the same time, meaning I like to have my time to be alone, my space at times and also get a little intimidated to approach people at first. I often get to hear that I look super intimidating and people don't have the courage to approach me but I feel the exact same way!
2. I can sew… like "tailor-made" sew. I went Fashion Designing & Women's tailoring for three years in High School (we call in Gymnasiet in Sweden, which you basically can start a job after).
3. I rarely read books and in fact never finished reading a book in my entire life (99,9% sure about that fact). But that fact is about to change as I've promised myself to start reading more, and if that doesn't work I'll listen to it but will give reading a chance first.
4. On the other hand, strangely I loved writing as a kid and used to write short stories. I've always had this thing for making up stories.
5. My favorite foods are salmon sushi, poke bowls, sweet potato fries, fried calamari. I absolutely looove raw salmon and tuna. I've been working on going vegan for a couple a month now, and it all goes fine with no dairy products etc.. until I get those sushi or sashimi cravings!
6. Sweets and candies in all form are my weakness. I am such a strong sweet tooth!! I have lately tried to limit my sugar consumption as much as possible but I can't resist and eat tons of raisins and dates instead. I have recently been "re-hooked" on nice cream. So so good. I'll put up recipe for it here in soon.
7. I am a total DIY skin- and hair care junkie even though I don't post much about it on Instagram. I absolutely love researching and experimenting with all different DIY hair- and face masks I read about online.
8. I also have an obsession with coconut oil and literally use it as everything! Be it to moisturize my skin, to remove my makeup, as a shaving cream, as a hair mask, or cooking with it. Coconut oil covers it all I believe!
9. I am scared of bumble bees (of all sizes and types) and literally run around in circles during summer if I see one near me. I've never been bitten by one for that matter but I'm really scared of getting bitten.
10. I am low-key of a shopaholic and love high street stores! My current favorite is H&M, Zara, and & Other Stories. For online I'm totally into Asos and Nelly.com collections. Dressing well and using clothing as a tool makes me feel so confident and just great.
11. I don't watch TV (I am not against watching television by any means!) but I only watch TV when I am at someone's place and that's what we are doing. In fact I didn't have a television at my place until yesterday (literally) and that's because I want to watch some series but not on my laptop.
12. I was raised as a tom-boy and did the entire 'short hair, guy clothes etc' thing until the age of 11. This, as my grandma and my parents wanted a boy when my mother was pregnant with me and when I (a girl) was born my grandmother decided that I instead will be her "grandson" somehow… I guess being stubborn runs in the family lol. Even everyone in my school except for my friends and teachers thought I was a boy during this entire time until my family decided to move to Europe.
13. I love traveling, and to learn new things and meet new people along with that. I've travelled to 26 countries so far. I will be talking about all the places I've visited throughout on this blog as well. However, of all the places I've traveled my favorite place so far has to be Spain, especially Mallorca and Barcelona. Mallorca for being so incredibly beautiful and Barcelona for the vibe.
14. As a kid I was terrified of flying, but I loved traveling so much that I had to overcome that fear in some way. So I started with not sleeping the night before flying and pass out as soon as I got on the plane which worked great, and now so many "take-off sleeps" later for some reason I feel completely safe in the air.
15. I love adventures and the "safer" version of living on the edge. I know this may surprise you considering the fact mentioned above but I just love the adrenaline rush I get when sitting on a height having my legs hanging and looking several meters down. I have also done bungy jumping (in nature) in India once and next on my bucket list in Kathmandu and Macau.
I hope this post makes you get to know me a little bit better. Also, feel free to comment below for more things you'd like to know about me and I'll answer them ❤️